It is currently a mad scramble to legalize sports betting on a state-by-state basis and everyone wants a piece of the pie.  At the moment, 8 states have legal sports betting and bookies in these states are thriving.  Thus, if you want to get in on the action then you need to know about the PPH solution. Therefore, here is our guide on How to be a Bookie with a Pay Per Head Provider.
For years, agents have been using a Pay Per Head to become a Bookie because it is fast and easy.  This is because if you have enough knowledge to run a sportsbook then the Bookie PPH does the rest. In addition, a large financial investment is not necessary because of the payment structure of the bookie Pay Per head. Instead of paying a flat fee, you only pay a weekly fee per active player; hence the name "Pay Per Head".
A Bookie Pay Per Head provides bookie agents with all of the tools necessary to open their own gambling website. Therefore, a bookie gets the sportsbook software, platform, infrastructure, support staff, a sports betting website and more!
Be a Bookie with a Pay Per Head in 3 Easy Steps
Needless to say, it is best to use the PricePerPlayer.com Pay Per Head services to become a bookie agent.  This is because they a quality PPH service for only $5 per player with no deposit or hidden fees. Feel free to check our Bookie Pay Per Head Demo and read about all of the testimonies written about us!
Step 1. Open a Bookie Agent Account with PricePerPlayer.com
This is an easy step as we value your privacy and do not ask any personal questions or even an email address.  Just don't forget to keep a record of your username and password after you register for an account.
Just Click Here to Open your Account
Step 2. Create a Gambling Account for your Players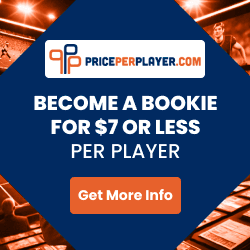 Once you have made Bookie Agent account, the next step is to create a sportsbook account for your players. The process is very easy, just click on the where it say "Edit account" and then click on "Create New Player".
From there, you can create their username and password, give them wagering limits and gambling option limits. In addition, you will also be able to set lines for them, give them credit, free plays and much more!
Once this is done, then all you have to do is give them the website of one of our sportsbooks or just request to have your own personal website.
Step 3. Managing your Sportsbook
The last step is to simply manage your sportsbook which can easily be done thanks to our comprehensive report system.  All of our reports are easy to use and adjust according to your preferences.  Thus, you will be able to keep track of your each player and make the necessary adjustments to maximize your profits.
So what are you waiting for?  Become a Bookie Agent today with PricePerPlayer.com and get your first two weeks for free!