How Does a Sportsbook Pay Per Head Work?
According to the latest gambling report by iGamingDirect.com, the online gambling market will grow to $56.05 billion revenue in 2018. In addition, the global online revenues are expected to double by the end of 2024.With this much money at stake, local bookies and gambling entrepreneur have been in a race to open their own online sportsbook at a record pace.  Several options gambling software are open to them which include the Pay Per Head Solution.  In this article, we will answer questions on how does a sportsbook pay per head works and whether it is the right option for you.
Opening a sportsbook is a time consuming and costly project.  The cost of buying a reliable sports betting software will cost anyone well over half a million dollars. There are also several costs involved in running an online bookie operation bringing the price tag of running a sportsbook close to the million dollar range.
This is why the most cost efficient way to open a sportsbook operation is to use a sportsbook pay per head provider.  This is because they only charge you a weekly fee based on the number of layers that use the gambling services.
How does a Sportsbook PPH work?
A sportsbook Pay Per Head service or PPH for short is basically renting sportsbook services for your players to use.  This means that a sportsbook pay per head provider will manage and keep track of all of your players' wagers for a weekly fee.  The fee is charged on a per player basis hence the name pay per head!
In essence, a sportsbook pay per head lets you run your own sports betting website without having to deal with the headaches of running a sportsbook.  The only thing a bookie that runs his business thru such a service has to worry about is:
Acquiring New Players
Customer Service to Retain players
The financial aspects of the operation
So a PPH sportsbook operator does not have to worry about having to hire a lines manager, office space, servers, software maintenance and infrastructure.
O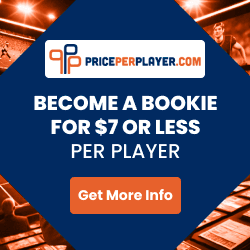 ne of the reasons such companies have become so popular is that their service is legal as that they do not handle money and are basically a data process center for wagers.
As computer and internet advancements have made giant leaps in the gambling industry so has the quality of a bookie pay per head services.  Today, a Sportsbook PPH service offers its clients a lot of features.
For example, PricePerPlayer.com which is the leading Sportsbook Pay Per Head service in the industry gives you complete control over your players from creating a sportsbook account for your players to managing individual player's wagering limits and game access.
Here are also some of the Sportsbook Features offered by PricePerPlayer.com
Sports Betting
Live Betting
Live Casino
Pre Game Lines
Horse Racing
Online casino
Live Dealer Casino
Online and Telephone wagering
Mobile Betting
And more…
You Only Pay for What You Use
The advantage of using a PPH Sportsbook service is that you only pay for your active players.  An active player is defined as a bettor that has placed at least one bet in a given period of time. This means that if during one week you have 7 out of 10 players that placed a bet, you only pay for 7 players and not 10.
If you use the PricePerPlayer.com Pay Per Head service and you pay $5 per player.  This means that you would pay $35 that week.
Unlike a white label sports betting service where you pay a fee and a monthly percentage of your net revenue, a PPH only charges what you use.  This is why this service has become the favorite method of running a sportsbook.
If you are interested in running your own sportsbook at an affordable price, register today for a sportsbook pay per head account with PricePerPlayer.com and get the first two weeks for FREE!