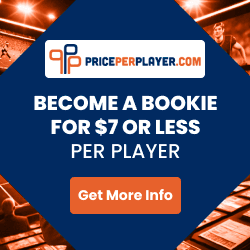 PricePerPlayer.com wants to help you start your own online bookie service with our pay per head service. By using our Sportsbook Pay Per Head service, you can start your own sports betting operation online in just a few minutes.
In addition, our sportsbook pay per head services has all of the tools necessary to have a successful sportsbook. Our sports betting software will allow you to easily create, edit and manage all of your players. This is because with just one click, you can set wagering limits and gambling options for all of your players.
PricePerPlayer.com offers the best Sportsbook PPH rate in the industry in terms of price, quality and value.  This is because we charge you a flat rate of $5 per player with no additional charge unlike other PPH providers.
A Sportsbook Pay Per head service for large and small bookies
At PricePerPlayer.com, you can use our Sportsbook Pay Per Head Service whether you have 1 player or 1,000 players.  In addition, our sports betting platform enables you to fully track, manage and analyze your players.
Furthermore, you are able to generate reports about your players wagering habits, betting trends and much more.
Here are just some of the features that are available with our sportsbook PPH services:
WHAT YOU GET:
Easy to use player management system
Set player limits and access
Create and Edit your players
Daily, Weekly and Monthly Player figures
Intuitive and reliable reports
And much more
WHAT YOUR PLAYERS GET:
sports betting
Live Betting
horse racing
digital casino
live casino
access to our telephone service