Becoming a Bookie with PricePerPlayer.com
Becoming a Bookie
Are you looking to start your own sports betting service and become a professional online bookie but don't have any idea how to go about it?  Then keep on reading as this is how to become a professional online bookie!
Do you have what it takes to be a bookie?
Over the last few years, several movies have come out about people becoming bookies and living the high life that comes with owning your own sportsbook.  Owning a sports betting operation definitively has its perks but it also comes with many pitfalls and sacrifices.
Like any other business, being bookie entails a lot of hard work, dedication and long hours in order to make a successful career out of it. If you don't think this is for you then you might as well stop reading right now.
If the answer is yes and you are willing to work 12 hour days, live with the stress of thousands of dollars you could lose on a game and very little sleep then keep on reading!
Understanding How to Be a bookie and How Bookies Make Money
First off, one of the most common mistake people make when they think of a bookie is that they make money from people losing their bets.
This could be far from the truth as bookies actually make money from the "Vig" or the "Juice" which the commission that they take from each bet that is placed with them.
In most cases, the bookie takes a 10% commission from every bet so the more people that bet with them the more money they make.
However, keep in mind that the job of the bookie is to create betting odds or lines so that the bets will be even on both sides.  This means that if you have a game between two football teams, in theory you want 50% to bet on team A and 50% to bet on team B.
That way, the bookie does not have to pay the winners any money from his own pocket.  For example, You have the New England Patriots who is arguably playing the best team in the NFL playing the worst team in the NFL, the Cleveland Browns.  Everyone would bet on the Patriots to win making it difficult for the bookie to make a profit from it since the Patriots will probably win.


This is where the bookie sets different type of odds that will either even the teams out by using point spread or making it more expansive to bet on the Patriots where they would have to bet $100 to win $20 or making it more lucrative to bet on the Browns where they could bet $20 to win $100.
So now that you know the basics on how a bookie makes money, let's take a look at what you will need to open your own bookie operation.
What You need to become an Online Bookie
Available Funds – Everything revolves around money in the world of gambling and that is the first thing that you will need.  The amount you will need will depend on what type of sports bettors you have, the type of betting limits you have and the number of clients you have.
If you just want a small operation with $10 betting limits and 10 customers that bet around $5,000 per month then you can get away with a bankroll of $10,000.
Sports Betting Software – Today, almost anyone can become a bookie thanks to the many sports betting software available on the market.  The most popular software are probably DGS and ASI and are available for purchase for several hundred thousand dollars.  You can also hire a company that makes sports betting platform to make one for you.
In addition, you will have to get your own server, a lines manager or sign up for and lines service and many more other things if you decided to buy and run your own software.
The easiest and most cost efficient way to get a sports betting software is probably the sportsbook pay per head solution.  A bookie pay per head service allows you to have your own website complete with a fully functional sports betting software.  The cost of using a pay per head service will range from $5 to $35 per week per active sports bettor that you have.
In short, you get everything you could want in a sportsbook like normal sports betting, customer login and management, even live odds and casino games for a small weekly fee.
Use the Best Bookie Pay Per Head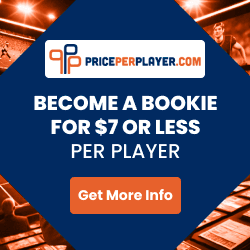 The best pay per head service is offered by PricePerPlayer.com starting at only $5 per player while giving them full sports and casino gambling options.  In addition, you get a 2 week free trial with no strings attached, no deposit required and no personal information needed to open an account.
Get Clients for your sportsbook – Yes, you will need bettors to use your service and the more clients you have the more money you can make.  Sportsbooks use several methods to get clients which include the bonus method.  The bonus method is basically giving your client bonus money that they can use to place bets with you when they make a deposit in their account.
Here is an example, a client deposits $1,000 and they get a 10% cash bonus.  This means that they end up with $1,100 to bet on sports.
Just be careful if you plan on offering bonuses to your clients as many sportsbooks have gone bankrupt because they gave out too many bonuses.
And there you have it, how to become a bookie in three easy steps.  Just keep in mind that this is the simplified version on how to become a bookie.  As you get more years of experience, you will start to see trends and ways to tighten your own lines to maximize your profit margin as well as many more tricks and tips that only come with experience.