PricePerPlayer.com Adds 111 Casino Games to their Sportsbook PPH Services
San Jose, Costa Rica – The Sportsbook Pay Per Head industry enjoyed doubled digit growth in 2017 thanks to an increase in online gambling popularity.  PricePerPlayer.com itself showed extensive profits in its first quarter thanks to the success of its expansion into the Asian-Market. In response to this growth, the software development company increased the number of casino games for their Bookie PPH Services.
In order to continue the growth of their Sportsbook Pay Per Head service, they added 111 games to their casino platform. They include 67 desktop games and 18 mobile games which are currently available to all of their clients.
"Last year was a tremendous year for PricePerPlayer.com" said Josh Ingram, the director of marketing and operations for PricePerPlayer.com.  "We not only had a successful run in the Asian-American market but also surpassed our sales goals by 325%".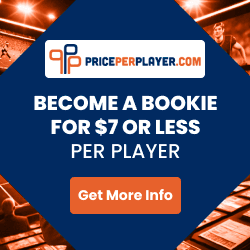 To keep the momentum going, PricePerPlayer.com has partnered with well-known game providers to increase casino games available in their platform. Hence this move will provide loads of fun for players and increase revenue for their clients.
New Casino Gaming Partner for their Sportsbook PPH Services
In addition, the additional games can function alone in a website or can be totally integrated into already existing platforms. Their new casino games can loads faster than most other PPH providers and helps players get started even faster.
To make all games fair and random, the new games use a Random Number Generator (RNG) to decide the outcome. Also, the RNG provides the game with a random number using a sophisticated algorithm.  In order to keep the quality of its RNG, it is periodically tested by third-party companies.
The PricePerPlayer.com which is a privately held company has long prided itself in having excellent relationship with its clients. As a result, this is reflected by the outcome of this year's annual meeting by its board of director.  This year, the company decided to increase its software development budget to add more features to its gambling software. The new features and improvements will be available at no extra cost to help clients attract and retain more players.
###
PricePerPlayer.com is a software development company that specializes in gambling platforms and pay per head services. PricePerPlayer.com located and licensed in Costa Rica and backed by over 75 years of combined experience in the gambling software industry. Visit www.priceperplayer.com or e-mail us at [email protected] for more information.
 Safe Harbor Statement: Statements in this announcement that are not strictly historical may be "forward-looking" statements, which involve risks and uncertainties. These include risks and uncertainties relating to customer and supplier relationships and prices, competition, market demand, litigation and other contingent liabilities, the integration and operation of acquired businesses, and economic, political, governmental and technological factors affecting PricePerPlayer.com's operations, markets, products, services and prices, among others, as set forth in public filing.