Second attempt to Legalize Online Gambling in West Virginia
In March of last year, the H3067 was introduced to legalize online gambling in West Virginia. The bill would have specifically legalized online poker and online casino games.  Unfortunately, the bill never came to pass in part because the house speaker opposed it.  This year, the bill is being re-introduced and is expected to have better chance of passing.
The bill to legalize online gambling is being introduced this year by Delegate Shawn Fluharty and is co-sponsored by Sean Hornbuckle, Mike ushkin, Joseph Canestraro and Mick Bates.
Despite not having a legal framework for online gambling,  West Virginians still continue to bet online through offshore gambling websites.  West Virginians are taking note of this as it means taxable money leaving the state for another country.
Why this year will be different for the bill
Even thou the West Virginia house speaker, Tim Armstead is still against legalizing online gambling, the bill may still go through. Some of the reasons include:
Bill H3067 is being introduced early – Last year, the bill was introduced late in the 2017 session. This year, the bill is being introduced early enough to gain support.
Pennsylvania – Last year Pennsylvania passed on online gambling legislation.  Since Pennsylvania has a few casinos near the West Virginia border, this could lead to W. Virginia money leaving the state for Pennsylvania.
What does Bill H3067 means for the West Virginia Gambling Industry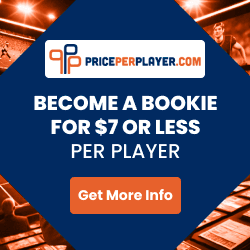 This bill would basically authorize licensed casino in West Virginia to offer online poker and online casino games.  If the bill does pass, online gambling would be regulated by the West Virginia Lottery commission.
In terms of licensing and online gambling taxation, the state would charge $50,000 for an online gambling license and would have a 14% tax on the gross gaming revenue.
This could be a strong advantage for West Virginia in attracting more casinos and online sportsbooks.
2018 is a year where many states will be trying to legalize online gambling and sports betting.  Sports betting software companies like PricePerPlayer.com, predicts that by the end of the year, more than half the U.S. states will try to legalize sports betting and internet gambling.
In fact, New York will consider legalizing online poker again this year.  Rhode Island senators and congressmen are also looking into the legal aspect of online gambling.  Several other Stats as well are currently looking into iGaming insight.
On a side note, West Virginia may also attempt to legalize sports betting  with Bill 2751 which was also introduced last year.